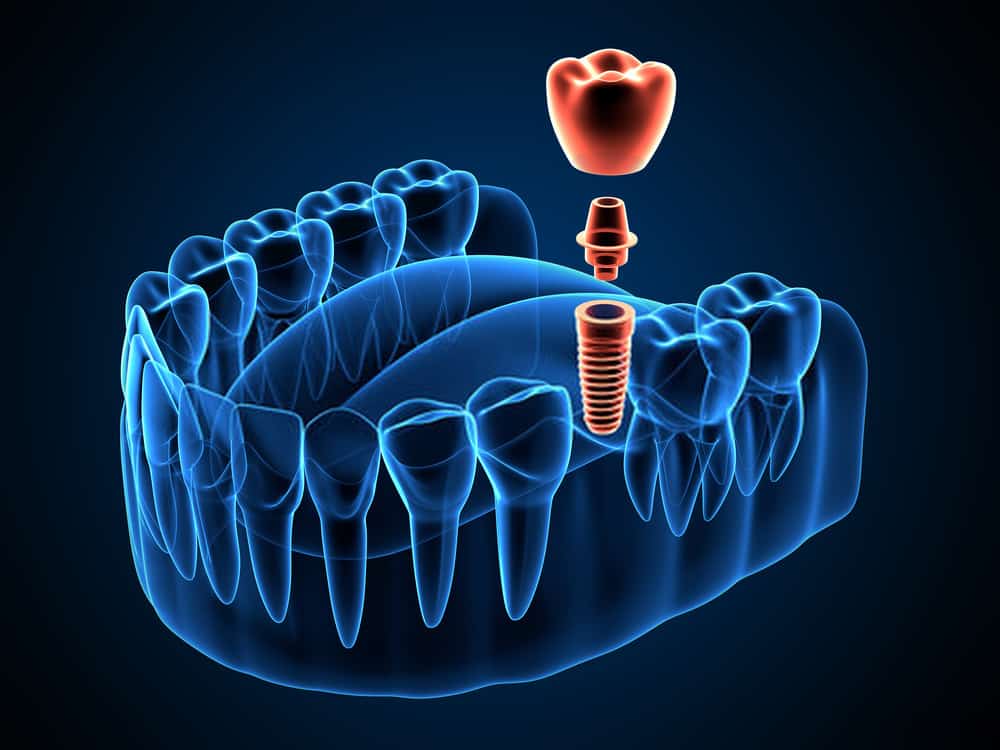 Do you have missing teeth? It is critically important to replace missing teeth. Eating and chewing with missing teeth can sabotage your bite and lead to incessant discomfort. Missing teeth can give rise to a mouth rearrangement that often results in facial changes that look decrepit.
Our dentists at Seablue Dental of Kent, offer dental implants on-site as an outpatient procedure. To schedule an appointment today, book a consultation online, or call the office and speak with a friendly team member.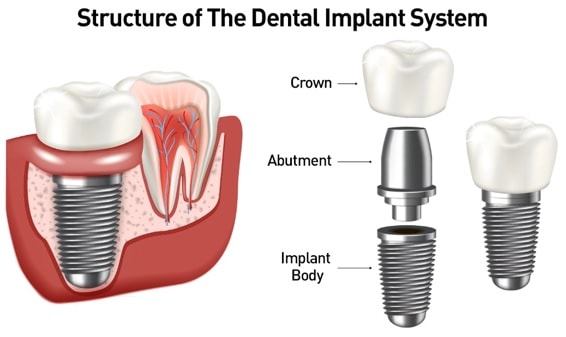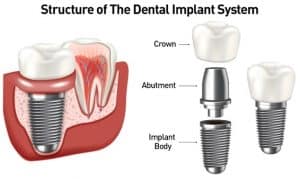 A single tooth implant procedure may be done if a tooth has been extracted or is missing. A titanium implant body is placed into the jawbone to resemble the tooth root. We allow a period of time for the jawbone to heal over the implant base before fitting for a crown.
Next, an abutment is screwed into the base of the implant to allow for a crown to be fitted on top. Finally, a custom fabricated crown is placed over the abutment to function like a real tooth.
What happens on the day of treatment?
On the day of your appointment please arrive 15-20 minutes prior to your scheduled time. This has proven to help patients settle in and release the pre-surgery nervousness. We will make you as comfortable as possible during your visit.
We recommend bringing along a friend or relative on the day of your treatment. Depending on the procedure itself, you may be receiving anesthesia and possibly other medication during the surgery. It is important that an adult accompany you to the office, stay during the procedure and drive you home after your recovery.
We will provide you with detailed information regarding medication, food, drink, and other preparations that you may need. Please follow their instructions on the day of your treatment. We will also provide you with complete post-surgery instructions including cleaning and maintenance instructions, and if necessary we'll provide you with prescriptions for any medications necessary to reduce the post-surgery discomfort and to help you toward a speedy recovery.
We'll arrange follow-up appointments to assure you maintain a beautiful, natural smile for years to come.
What happens after the treatment?
Do not disturb the wound. Avoid rinsing, spitting, or touching the wound on the day of surgery. There will be a metal healing abutment protruding through the gingival (gum) tissue.
BLEEDING. Some bleeding or redness in the saliva is normal for 24 hours. Excessive bleeding can be controlled by biting on a gauze pad placed directly on the bleeding area for 30 minutes. If bleeding continues please call the office for further instructions.
SWELLING. Swelling around the mouth, cheeks, eyes and sides of the face is not uncommon as it is the body's normal process in repairing itself. Swelling does not always appear immediately. It may take 12 to 24 hours before swelling becomes apparent. Swelling may not reach its maximum until 2-3 days post-surgery. Swelling may be minimized by the immediate use of ice packs post-surgery. Two baggies filled with ice, or ice packs should be applied to the sides of the face where surgery was performed. The ice packs should be left on continuously while you are awake. After 36 hours, ice has no beneficial effect. If swelling or jaw stiffness has persisted for several days call the office.
DIET. Drink plenty of fluids. Avoid hot liquids or hot food. Soft food and liquids should be eaten on the day of surgery. Return to a normal diet as soon as possible unless otherwise directed.
PAIN MEDICATION. You should begin taking pain medication as soon as you feel the local anesthetic wearing off. For moderate pain, 1 or 2 Tylenol or Extra Strength Tylenol may be taken every 3-4 hours. Ibuprofen (Advil or Motrin) may be taken instead of Tylenol. Ibuprofen, bought over the counter comes in 200 mg tablets: 2-3 tablets may be taken every 3-4 hours as needed for pain. For severe pain, the prescribed medication should be taken as directed. Be sure to take the prescribed antibiotics as directed to help prevent infection. Do not take any of the above medication if you are allergic, or have been instructed by Idaho Falls Dental Group not to take it.
HOME HYGIENE CARE. The night of surgery, use the prescribed Peridex Oral Rinse before bed. The day after surgery, the Peridex should be used twice daily, after breakfast and before bed. Be sure to rinse for at least 30 seconds then spit it out. Warm salt water rinses (teaspoon of salt in a cup of warm water) should be used at least 4-5 times a day, as well, especially after meals. Brushing your teeth and the healing abutments is no problem, but be gentle initially with brushing the surgical areas. Good oral hygiene is essential to good healing.
PHYSICAL ACTIVITY. Keep physical activities to a minimum immediately following surgery. Physical activity could cause throbbing or bleeding of the surgical implant area.
How common are dental implants?
Dental implants are extremely common. They may be performed by a general dentist or a specialist, such as a periodontist or an oral surgeon.
How painful is a dental implant placement procedure?
Most people who have dental implants report little to no pain. Just be sure you take all medications as prescribed and follow your post-operative instructions closely.
Are you put to sleep for a dental implant placement?
Typically, placement of a tooth implant does not require being put to sleep; it can be done easily with local anesthesia. Many dental providers can offer sedation for your comfort, including nitrous oxide, oral sedation and IV sedation. If your case is more involved, general anesthesia may be recommended. Ask your dentist at Seablue Dental of Kent which option is right for you.
Restores the ability to chew
Restores cosmetic appearance
Helps keep the jawbone from shrinking due to bone loss
Preserves the health of the surrounding bone and gums
Helps keep adjacent (nearby) teeth stable
Improves quality of life
Damage to surrounding natural teeth during implant placement
Injury to the surrounding tissues during surgery, such as sinus perforation
Injury during surgery (for example, fracture of surrounding jawbone)
Inadequate function, such as feeling like the teeth do not bite together normally
A sensation that the tooth is loose or twisting in place resulting from an abutment screw loosening
Implant body failure (looseness of the implant body)

due to systemic infection, which may be more likely in patients with uncontrolled diabetes
due to local infection in bone and gums supporting the implant body
due to delayed healing, which may be more likely in patients who smoke

Difficulty cleaning the gums around the implant, resulting in poor oral hygiene
Untreated periodontal disease
Post-surgical numbness due to nerve impingement or damage
Always notify health care providers and imaging technicians that you have dental implants before any magnetic resonance imaging (MRI) or x-ray procedures. Dental implants can distort or interfere with these images.
Seablue Dental Office FAQ
How often should I visit my dentist?
Everyone's needs are different, so have a chat to your dentist about how often you need to have your teeth checked by them based on the condition of your mouth, teeth and gums. It's recommended that children see their dentist at least once a year.
Why are regular dental assessments so important?
Regular checkups keep you updated with your oral health and help diagnose and timely treatment of any problems developing in your tooth or gums or oral tissues.
How do I know if my teeth are healthy?
You dentist will conduct an exam and x-rays at your dental visits and educate you about your oral health.
How do I book my appointment in case of an emergency?
How can I improve my oral hygiene?
Regular brushing and flossing after every meal should keep the food particles from depositing in crevices of your tooth and hence keeps the harmful bacteria causing the tooth decay in check.
Should I call 911 in case of a dental emergency?
If there is a medical emergency or life threatening condition, call 911 or go to nearest ER.
Is root canal an emergency
Sometimes. Contact us for a consultation.