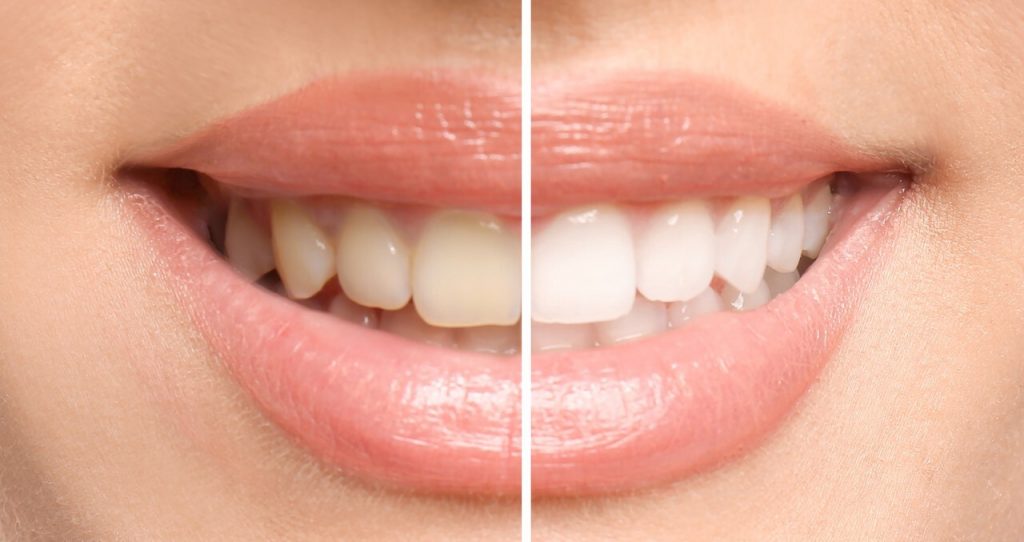 Bleaching or Teeth whitening treatment is a simple, painless way to make your teeth whiter. Although teeth are very hard, the outer layer, enamel, has microscopic pores that can discolour over time, from smoking and food colouring. Sometimes, discolouration can occur during early tooth formation from antibiotics and fluoride consumption.
There are many products and techniques available for patients who want to achieve a brighter smile, and with so many options available, it can be difficult to choose the method that is right for you. The best way to begin any teeth-whitening regimen is to schedule an appointment and talk to your doctor about the differences between in-office professional whitening and at-home whitening.
The first professional option is commonly referred to as in-office whitening. This bleaching technique is fast and effective. This procedure is performed in a dental office. During an appointment, your dental professional will apply a whitening gel to the surface of your teeth and the whitening process is activated. The technology we use help the whitening in one visit. The entire office visit generally takes about 60 to 90 minutes and you will be able to see results immediately. The whitening lasts for 6 months to 1 year, depending on your personal habits, such as smoking/ tobacco and drinking coffee and tea. The outcome of every case is different.
There are a few different types of home whitening solutions. Commonality is that patient performs the procedure and apply the whitening material themselves at their home. The process takes from several days to a couple of weeks.
Tray bleaching is a type of professional whitening that uses custom-made trays and whitening gel only available through your dentist. The bleaching gel applied in a transparent tray fits snugly over the teeth. Our team at Seablue Dental of Kent will make the whitening trays for you to take home. It can be used during the day or while sleeping. As the peroxide in the gel breaks down, hydroxyradicals help whiten stained teeth.
Unlike strips, this process whitens all your natural teeth and may contain ingredients intended to provide maximum comfort. At-home professional tray whitening generally takes ten to 14 days, although you may notice results in as little as three to five days.
There are many over-the-counter teeth whitening options, and one type of readily accessible whitening products is commonly referred to as a "paint-on" teeth whitener. Paint-on whiteners can be purchased over-the-counter and generally are less expensive and less effective than whitening strips or professional options. Paint-on teeth whiteners consist of a gel that is applied to the tooth using a small brush. Paint-on whitening gel hardens into a film that coats the teeth, and dissolves in the mouth. As with any teeth-whitening regimen, it is wise to consult with a dental professional before use.
Teeth-whitening strips are thin, flexible plastic (polyethylene) strips with a thin film of hydrogen peroxide on one side. Whitening strip kits come with two types of strips: strips for the upper teeth and strips for the lower teeth. The whitening agent is applied by placing the strips across your teeth and gently pressing the strips to ensure contact with all your teeth. Teeth-whitening strips are typically worn for 30 minutes a day, twice a day. The duration of treatment will vary.
The least expensive options are whitening toothpastes and mouthwashes. Designed to have "whitening" capabilities, toothpastes and mouthwashes work to remove surface stains using mild abrasives. However, unlike the materials used in professional whitening procedures, these products do not lighten the actual color shade of the tooth. Whitening toothpastes affect surface stains and will mildly lighten your teeth.
If you would like to learn more about teeth whitening or to receive a cost estimate for Teeth Whitening Treatment process, Get in touch with us today.
Seablue Dental Office FAQ
How often should I visit my dentist?
Everyone's needs are different, so have a chat to your dentist about how often you need to have your teeth checked by them based on the condition of your mouth, teeth and gums. It's recommended that children see their dentist at least once a year.
Why are regular dental assessments so important?
Regular checkups keep you updated with your oral health and help diagnose and timely treatment of any problems developing in your tooth or gums or oral tissues.
How do I know if my teeth are healthy?
You dentist will conduct an exam and x-rays at your dental visits and educate you about your oral health.
How do I book my appointment in case of an emergency?
How can I improve my oral hygiene?
Regular brushing and flossing after every meal should keep the food particles from depositing in crevices of your tooth and hence keeps the harmful bacteria causing the tooth decay in check.
Should I call 911 in case of a dental emergency?
If there is a medical emergency or life threatening condition, call 911 or go to nearest ER.
Is root canal an emergency
Sometimes. Contact us for a consultation.