Clear Aligner Dentist, Kent WA
How to Care for your Teeth when Wearing SureSmile® Aligners
With the groundbreaking SureSmile ® clear aligner orthodontic system, you may get the perfect smile and straight teeth of your dreams. The patient must wear the plastic aligners for 22 hours a day for them to work at their best. The aligners are custom-fit to gradually reposition your teeth. Your SureSmile® aligners can be taken out for eating, drinking, and oral hygiene procedures, unlike braces. Even though the aligners are removable, we still want to make sure you understand how to take care of your teeth while using SureSmile® aligners so you can keep your mouth healthy and lower your risk for developing advanced oral diseases.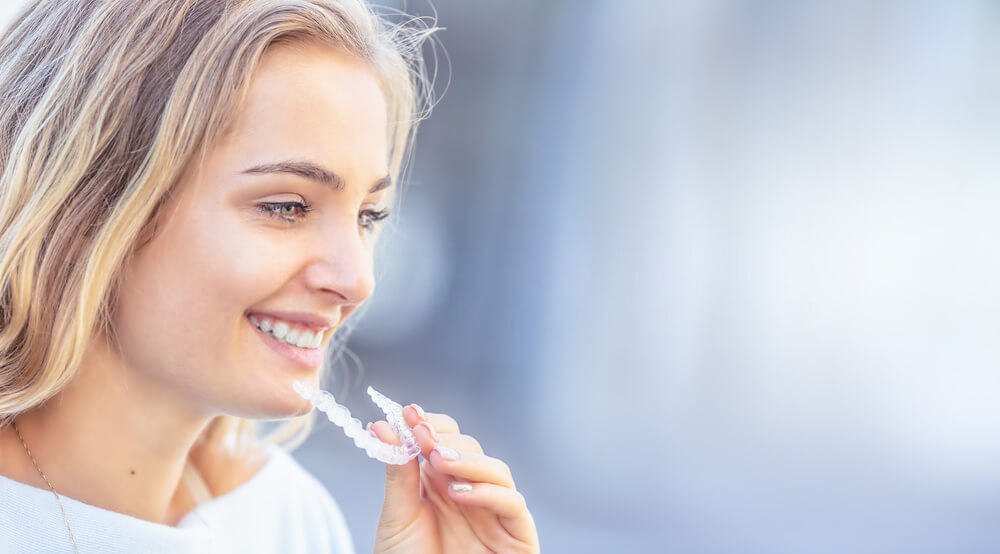 Your overall health greatly depends on your oral hygiene. Saliva struggles to continuously wash harmful bacteria from your teeth and guard your tooth enamel while you are wearing the clear aligners. Your chance of getting a cavity or gum disease rises when the plastic stops saliva, especially if you aren't taking good care of your teeth. At Seablue Dental, our highly skilled Invisalign dentists advise brushing your teeth at least twice daily.
You should wash your teeth after every meal and after consuming anything but water to get rid of food particles and bacteria. Additionally, flossing is important because it removes bacteria and food particles that can become lodged between your teeth. If you're striving to get the perfect smile, not flossing could raise your chance of developing cavities and gum disease.
You will need to go to the dentist for a new set of aligners roughly every four to six weeks during the course of your SureSmile® dental treatment. Nevertheless, remember when you had your most recent dental examination and cleaning, and make sure to stick to the six-month schedule. The Kent SureSmile® dentists can monitor more than just the outcomes of your treatment thanks to routine dental examinations. The dentist can guarantee that there are no elevated risks for cavities or gum disease by scheduling an appointment. Your dental cleaning is an essential step in preventing damaging effects from difficult-to-reach dangerous microorganisms.
It's simple to overlook taking out your aligners before a drink. But you shouldn't take out your aligners until after you've finished your drink, unless you're sipping simple water. Because the majority of liquids are acidic or sweet, the acids and sugar can penetrate the aligner and damage your teeth. The more acidic or sweet something is, the more damaging it is to the enamel on your teeth. To prevent misplacing your aligners or losing them, be sure to keep them in the included protective case.
Clean Your Mouth Before Inserting Aligners
Under the aligners, trapped food particles or dangerous bacteria can hurt teeth. While you can take out your SureSmile® aligners while eating, you must first brush your teeth and mouth before re-putting them in. Your SureSmile® dentists are aware that there are some circumstances in which brushing and flossing may not be an option. So, before putting on your aligners, clean out any food particles and bacteria with mouthwash or water. Brush and floss your teeth, nevertheless, as soon as you can.
Seablue Dental Office FAQ
How often should I visit my dentist?
Everyone's needs are different, so have a chat to your dentist about how often you need to have your teeth checked by them based on the condition of your mouth, teeth and gums. It's recommended that children see their dentist at least once a year.
Why are regular dental assessments so important?
Regular checkups keep you updated with your oral health and help diagnose and timely treatment of any problems developing in your tooth or gums or oral tissues.
How do I know if my teeth are healthy?
You dentist will conduct an exam and x-rays at your dental visits and educate you about your oral health.
How do I book my appointment in case of an emergency?
How can I improve my oral hygiene?
Regular brushing and flossing after every meal should keep the food particles from depositing in crevices of your tooth and hence keeps the harmful bacteria causing the tooth decay in check.
Should I call 911 in case of a dental emergency?
If there is a medical emergency or life threatening condition, call 911 or go to nearest ER.
Is root canal an emergency
Sometimes. Contact us for a consultation.