Occlusal Splint (Orthotic Device)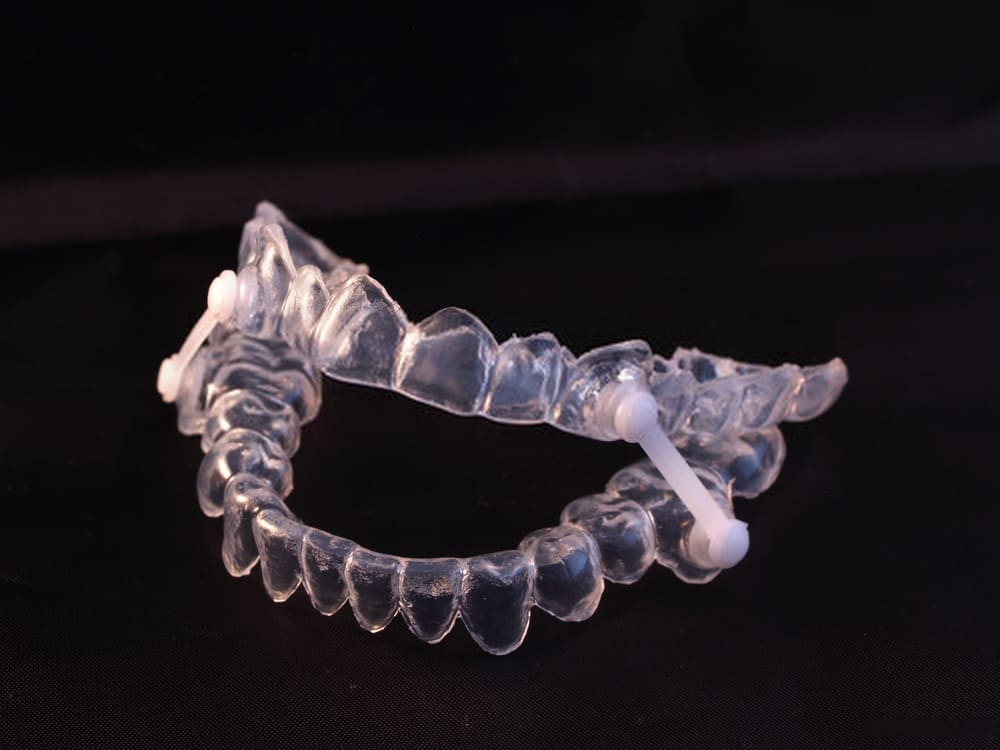 Unconsciously clenching or grinding of the teeth, also termed bruxism, can happen when a person is awake or asleep. Sleep bruxism is considered a sleep-related movement disorder. People who clench or grind their teeth (brux) during sleep are more likely to have other sleep disorders, such as snoring and pauses in breathing (sleep apnea).
Bruxism can be frequent and severe enough to lead to jaw joints disorders (TMD), headaches, damaged teeth and other problems. Because you may have sleep bruxism and be unaware of it until complications develop, it's important to know the signs and symptoms of bruxism and to seek regular dental care.
As bruxism causes the upper and lower teeth to wear against each other it leads to gradual shortening and chipping of the biting surfaces of your back teeth and the edges of your front teeth. This is a process called attrition and can cause sensitivity, fractures and affect the appearance of your teeth. The pressure of the upper and lower teeth can also lead to a process called "abfraction". Abfraction is where the enamel adjacent to your gums "flakes away" due to the pressure and flexing forces placed on your teeth when grinding, and causes notches that may be shallow and or sometimes very deep forming along your gumline (as seen in the video below). For a long time these notches were thought to be caused by over zealous tooth brushing, however, we now know that most of these are caused by bruxism. These notches can become very sensitive to cold, acids and sweet or if inadequately cleaned, decay can occur.Bruxism can also lead to strain and injury to the jaw joint (TMJ joint) and associated muscles. This can lead to pain, clicking or locking of the joint or muscular headaches. If you notice that you or your family member is grinding teeth — or has other signs or symptoms of bruxism — be sure to mention it at your next dental appointment.
An occlusal splint is a slim hard acrylic guard fitted to the upper jaw and covering the biting surfaces of your upper teeth. It is designed to be worn at night. An occlusal splint will not stop you from grinding or clenching. It does however, guide the jaw into a neutral position which relieves some of the pressure on the jaw joint and very effectively protects your teeth against the destructive forces of bruxism.
As our occlusal splints are custom made specifically for you, two short appointments are required: Appointment 1: During this appointment your dentist will take impressions of your upper and lower teeth as well as some measurementsAppointment 2: During this appointment your dentist will ensure that your new splint fits comfortably around your upper teeth and in your bite.
The purpose of a splint is to absorb the destructive forces of bruxism and to provide something to wear down other than your teeth. As such your splint will wear down, chip and may eventually break after years of grinding on it. When this occurs, your splint will need to be replaced.
In cases of severe bruxism in addition to an occlusal splint to protect your teeth, treatment by a physiotherapist may be necessary to address any muscular pain and to provide exercises to strengthen and protect your jaw joint.
Seablue Dental Office FAQ
How often should I visit my dentist?
Everyone's needs are different, so have a chat to your dentist about how often you need to have your teeth checked by them based on the condition of your mouth, teeth and gums. It's recommended that children see their dentist at least once a year.
Why are regular dental assessments so important?
Regular checkups keep you updated with your oral health and help diagnose and timely treatment of any problems developing in your tooth or gums or oral tissues.
How do I know if my teeth are healthy?
You dentist will conduct an exam and x-rays at your dental visits and educate you about your oral health.
How do I book my appointment in case of an emergency?
How can I improve my oral hygiene?
Regular brushing and flossing after every meal should keep the food particles from depositing in crevices of your tooth and hence keeps the harmful bacteria causing the tooth decay in check.
Should I call 911 in case of a dental emergency?
If there is a medical emergency or life threatening condition, call 911 or go to nearest ER.
Is root canal an emergency
Sometimes. Contact us for a consultation.